Practice Made Perfect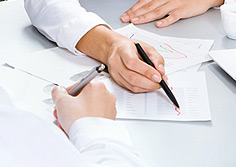 Jones Hassett offers 144 years of combined professional experience.
We are focused in the representation of business and commercial entities. From our inception, we have concentrated our practice on business. corporate, banking, construction, litigation, real estate, estate planning, probate, entertainment, municipal, oil & gas, and zoning law. Our attorneys have in excess of 65 years combined experience, all of which has been spent in these areas.
We serve as "general counsel" to many corporate entities, each of which depends on us for guidance, advice, and representation in a wide array of business problems and opportunities. We have extensive experience in forming new business entities, including corporations, limited partnerships, and limited liability companies. Our experience includes the representation of SEC-reporting public corporations, as well as local, regional, national, and international companies.
In addition to our general business practice, we have extensive experience in real estate. We have represented clients in the purchase and sale of undeveloped land; residential development; lot takedowns; construction; residential and commercial foreclosures; residential and commercial leasing activities; real estate syndications; condominium formation and administration; property owners' associations; and all forms of mortgage lending. Our substantial real estate experience includes the representation of both local clients and national and international entities, including companies in California, Colorado, Florida, Hawaii, Canada, Spain, Mexico, Italy, Brazil, the Bahamas, and Belize.
Our clients also frequently require our services in the area of litigation. All of our lawyers are involved in our litigation practice. Our litigation practice is predominantly commercial in nature, and our lawyers have experience in the areas of construction litigation; landlord/tenant litigation; commercial litigation; commercial real estate litigation; professional, directors' and employees' liability insurance; insurance defense; estoppel, waiver, and unjust enrichment; failure of consideration; fraudulent inducement; breach of fiduciary duty; joint venture and partnership litigation; employment litigation; note collection and foreclosure; bankruptcy; and secured lending transaction litigation. Our litigation practice includes the representation of our clients in federal and state trial and appellate courts, and our lawyers are admitted to practice in various courts throughout Texas and the federal system.